General Assembly on March 31st at 9am at the Cosmodôme de Laval




:: 2018/03/12



The members of the QRC have been invited to the General Assembly taking place March 31st at 9am at the Cosmodôme de Laval.
We will hold workshops in the afternoon, but our schedule isn't yet complete.
If you wish to perform a presentation, please contact M Steeve de Carufel who has been tasked with this part of the day.

If you are a member and have not received the invitation, please communicate with Yves Dufour or André Choquette.


Go for October Sky this weekend!




:: 2017/10/18



We are GO for October Sky 2017. We should have a great weekend weather-wise, but there is risk of cloud cover on Sunday.

We should be able to begin operations around 9 AM on Sunday until around 5 PM. For Sunday the window will be shorter, going from 9 AM to 3 PM.

We hope to see you all there!


GO for VIPE 2017 July 8 and 9!
:: 2017/07/06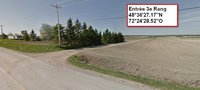 We are GO for VIPE 2017 this weekend! The weather forecast isn't the greatest, but we should have a decent enough Saturday to launch. On Sunday we'll need to keep our fingers crossed: there could be rain.

Most forecasts show little to no wind all weekend.

See you all on the field! The entrance is at the same place as last year, on "rang 3" in St-Prime.





Go for Rocket Fest 2017 this weekend


:: 2017/05/18



The weather starts off nice for the 2017 season as we are looking at a great Saturday to launch with mid-range winds, clear skies and temperatures warm enough to enjoy the day, followed by an even more favorable Sunday, showing conditions of low wind and some slight cloud cover. This means that we are officially "GO" for this weekend's launch.

It won't be our usual scalding hot May weekend, so bring a warm shirt just in case. For the most part it should be an excellent weekend to launch rockets: See you there!





The 2017 schedule is published! Rocket Fest on May 20 and 21


:: 2017/04/24



We've just published the full season schedule for 2017 in the events section, and it starts with Rocket Fest on May 20 and 21! If you're interested in eventually obtaining motor reloads for this event, please consult this link: http://www.clubqf.ca/en/ev-information.html#motorinfo

Stay tuned for updates on the season opener Rocket Fest as we make preparations and eventually issue weather reviews.





© 2018 Québec Rocketry Club - All Rights Reserved